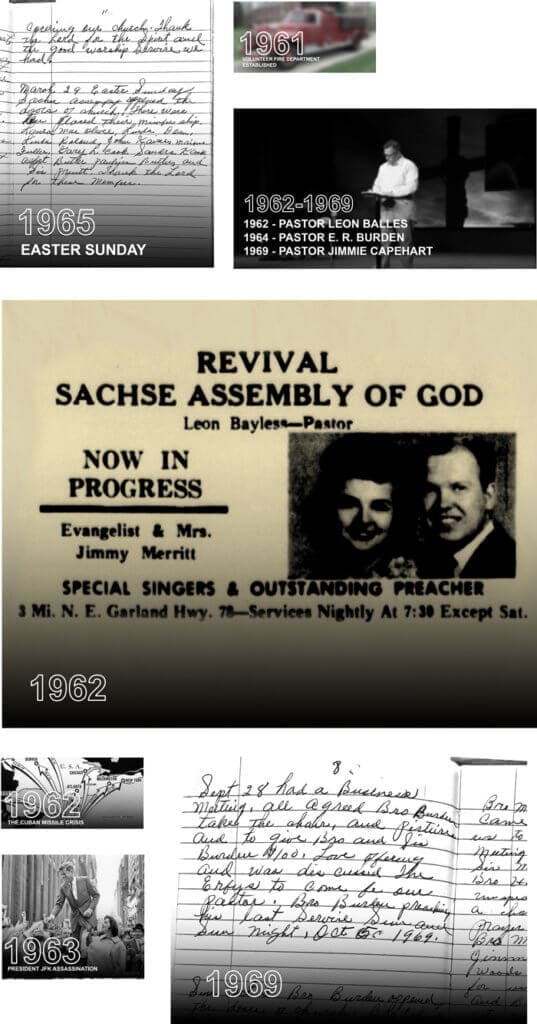 1961 - Volunteer Fire Department was established
1962 - Pastor Leon Balles
Oct 16, 1962 – Oct 28, 1962 - The Cuban Missile Crisis was a direct and dangerous confrontation between the United States and the Soviet Union during the Cold War and was the moment when the two superpowers came closest to nuclear conflict.
Nov 22, 1963 - John Fitzgerald Kennedy, the 35th president of the United States was assassinated in Dallas. Vice President Lyndon B. Johnson assumed the presidency upon Kennedy's death. Marxist and former U.S. Marine Lee Harvey Oswald was arrested for the assassination, but he was shot and killed by Jack Ruby two days later. The FBI and the Warren Commission both concluded Oswald had acted alone. 
1964 - Pastor E. R. Burden
1965 - America Entered the Vietnam War 
June 3rd, 1965 - Ed White became the first American to go for a walk in space. The feat came ten weeks after Soviet cosmonaut Alexei Leonov conducted the first spacewalk. Ed White spent roughly 20 minutes floating in space attached by only a 23-foot tether and 25 foot umbilical, with the world far below him.
1966 - Law enforcement was provided by the Dallas County Sheriff's Department
1968 - April 4th - Martin Luther King Jr., was fatally shot at the Lorraine Motel in Memphis, Tennessee.
Dec. 21, 1968, Apollo 8 lifted off, marking the first time humans left low Earth orbit and flew to the moon. This was the second manned spaceflight of the Apollo program, and it was a nerve-wracking and remarkable flight that captured the world's attention.
1969 - Apollo 11 (July 16–24, 1969) was the spaceflight that first landed humans on the Moon. Commander Neil Armstrong and lunar module pilot Buzz Aldrin formed the American crew that landed the Apollo Lunar Module Eagle on July 20, 1969
1969-1987 - Pastor Jimmie Capehart came in1969 and determinedly stayed for 18 years. He plowed the spiritual fallow ground of this city with little fruit to show for his faithfulness.
Edith & Eloise Bailey - Instrumental in keeping the church doors opened when others wanted to close the doors.