John 11:4-5 "Now Jesus loved Martha and her sister and Lazarus. So when he heard that Lazarus was sick, he stayed where he was two more days…"
In all of the Bible I think I struggle with this verse the most. Lazarus, Jesus' best friend, is dying. Word gets to Jesus and instead of leaving to heal Lazarus, Jesus takes a seat. You ever feel like Jesus did that to you? You feel like he told you he would be there in tough times, but now you're in tough times, and God is nowhere to be found. Maybe you thought you heard God tell you to take a leap of faith, and you did. Now you're on the other side and it seems like you jumped, but God didn't. Now you're dealing with the thoughts of, "Maybe I didn't hear His voice!" But I would argue that maybe you did! Maybe you're exactly where God wants you. Maybe you're going through a hard time right now NOT because Jesus wants to punish you, but maybe because he knows you're willing to go through pain that will help a lot of people.
I'll never forget when I went white water rafting in Colorado two years ago. We're going down the river and we came to a class 4 rapid and our instructor turns around and says, "Hey guys! You want mild or wild?" And everyone in the boat goes, "WILD!". I had never been white water rafting before. I didn't know what to expect, but my yells for mild were all drowned out. Wild we went. I'll never forget, I went out of the boat and got sucked under into what I think is called a vortex. Is that what it's called? It's called hell, that's what it's called! So I got sucked under and I couldn't get out; I was literally stuck. Everything went red and I thought, "Oh! This is what it's like right before you see Jesus." I couldn't breathe! Finally, I don't know what happened, but something shot me out. I hit the bottom of the boat and couldn't get my head out. At this point I'm thinking, "What fool said wild!?".
Everyone wanted wild, I wanted mild! But you know, as I think about it, I believe God's asking us today – do want mild? Or do want wild? Because the size of the vision that God gives us is directly in proportion to the pain you and I are willing to endure. So many of us say, "God I want to follow you, but I want to take up my mattress; I don't want to take up my cross." And there's a big difference. A lot of us want to pray, but few want to actually perspire and do something great for the kingdom. If you're going to follow Jesus, it's going to get wild and unpredictable.
vs. 17-24 "When Jesus finally got there, he found Lazarus already four days dead. Bethany was near Jerusalem, only a couple of miles away, and many of the Jews were visiting Martha and Mary, sympathizing with them over their brother. Martha heard Jesus was coming and went out to meet him. Mary remained in the house. Martha said, "Master, if you'd been here, my brother wouldn't have died. Even now, I know that whatever you ask God he will give you."
(Translation – "JESUS IF YOU HAD BEEN HERE THIS WOULDN'T HAVE HAPPENED!" Have you ever felt that way?)
Jesus said, "Your brother will be raised up." Martha replied, "I know that he will be raised up in the resurrection at the end of time." "You don't have to wait for the End. I am, right now, the Resurrection and Life. The one who believes in me, even though he or she dies, will live. And everyone who lives believing in me does not ultimately die at all. Do you believe this?"
The reason God made them wait is to reveal who He is. We will never do what He wants until we understand who He is. When we understand who He is, we'll do whatever He wants because we realize He's bigger than any problem, He's bigger than any person, He's bigger than any situation we will ever face. When we understand who He is, we stop following Him for what He does for us and we start we follow Him because of Who He is and what He DID for us. When we're in a tough situation, we need to stop asking God, "Get me out here!" and start saying, "God let me see you!"
Just a reminder… Shadrach, Meshach, and Abednego didn't see Jesus until they got IN the fire. Are you willing to take heart in the midst of the fire raging all around and believe that God STILL has great things in store for you?
Vs. 25-40 "Yes, Master. All along I have believed that you are the Messiah, the Son of God who comes into the world." After saying this, she went to her sister Mary and whispered in her ear, "The Teacher is here and is asking for you." The moment she heard that, she jumped up and ran out to him. Jesus had not yet entered the town but was still at the place where Martha had met him. When her sympathizing Jewish friends saw Mary run off, they followed her, thinking she was on her way to the tomb to weep there. Mary came to where Jesus was waiting and fell at his feet, saying, "Master, if only you had been here, my brother would not have died." When Jesus saw her sobbing and the Jews with her sobbing, a deep anger welled up within him. He said, "Where did you put him?" "Master, come and see," they said. Now Jesus wept. The Jews said, "Look how deeply he loved him." Others among them said, "Well, if he loved him so much, why didn't he do something to keep him from dying? After all, he opened the eyes of a blind man." Then Jesus, the anger again welling up within him, arrived at the tomb. It was a simple cave in the hillside with a slab of stone laid against it. Jesus said, "Remove the stone." The sister of the dead man, Martha, said, "Master, by this time there's a stench. He's been dead four days!" Jesus looked her in the eye. "Didn't I tell you that if you believed, you would see the glory of God?"
Did I not tell you I wouldn't forsake you?
Did I not tell you I give power to the weak?
Did I not tell you I give strength to the powerless?
Did I not tell you that He who began a good work in you would carry it unto completion?
"Then, to the others, "Go ahead, take away the stone." They removed the stone. Jesus raised his eyes to heaven and prayed, "Father, I'm grateful that you have listened to me. I know you always do listen, but on account of this crowd standing here I've spoken so that they might believe that you sent me." Then he shouted, "Lazarus, come out!" And he came out, a cadaver, wrapped from head to toe, and with a kerchief over his face." Jesus told them, "Unwrap him and let him loose."
In the moment of their greatest pain and their greatest doubt – Jesus asks them to take a step of faith. Are you willing to take heart today, knowing Jesus has overcome the world?
John 16:33 – "I have told you all this so that you may have peace in me. Here on earth you will have many trials and sorrows. But take heart, because I have overcome the world."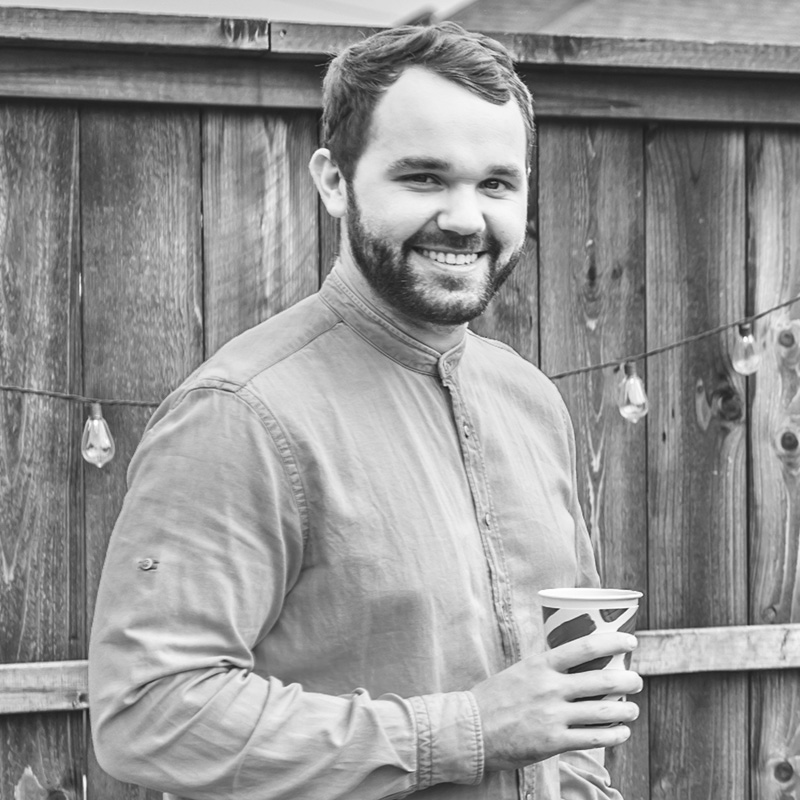 Jordan Cranfield
Pastor – Northplace Kids