God Is Here… When and How?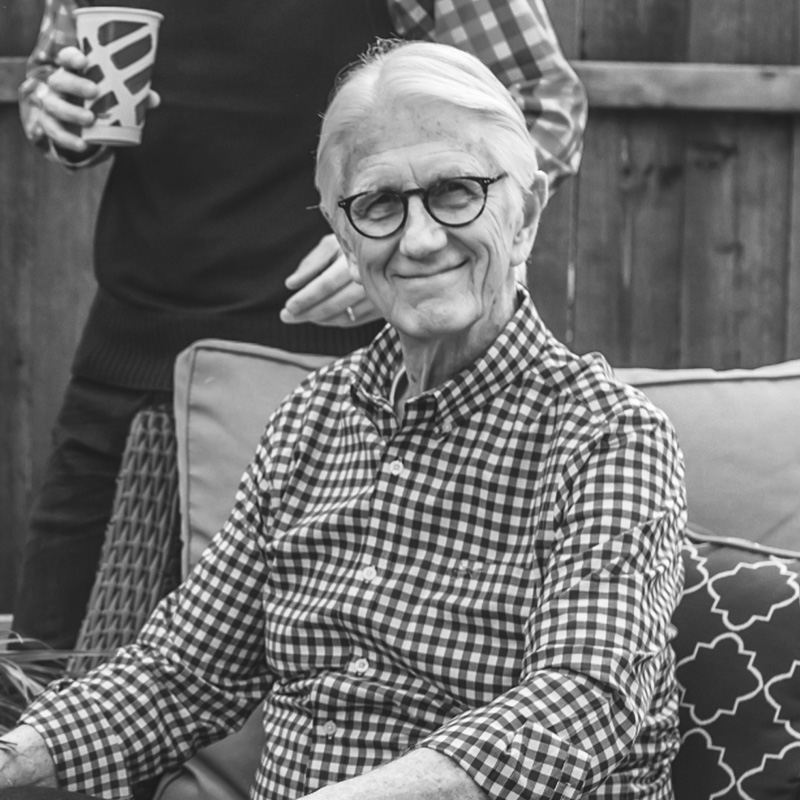 Derrill Sharp
Care Ministry Pastor
There are several ways that God is near or comes near to us. In the Old Testament, two different word pictures give insight to His character, care and closeness.
Deuteronomy 33:26-27 gives a powerful picture of God coming near.
"There is no one like the God of Israel, He rides across the heavens to help you…The eternal God is your refuge, and His everlasting arms are under you…"
This image is different than God giving you a big bear hug or restraining you! It is a picture of God lifting you, when your energy is not sufficient, and of Him catching you, when you are falling or being beaten down by life or circumstances!
Recently, I was in the lobby of Northplace and saw a prodigiously tall father cradling his newborn in his arms, walking toward the auditorium. What an image of total dependency and yet complete security!  I recalled the words of Jesus in Matthew 18:3, when He said, "Except you become as little children…" We are dependent upon Him, yes, but totally secure in His love, protection and power!
Early in my ministry, I encountered some overwhelming circumstances. For several weeks, a minister friend/mentor called and prayed with me every Sunday morning, about 30 minutes before I was to preach. Each time, I was lifted, strengthened and encouraged! It was God's way of putting His arms underneath me during a difficult time!
Infants need strong arms under them, so do injured big, burly professional football players. At times, we all need God's powerful, but gentle arms under us!
Ask! The God of Angel Armies will "ride across the heavens to help you…"
Isaiah 66:13, "As a mother comforts her child, so will I comfort you…", gives us another picture of God being "HERE" for us.
My mind is quickly flooded with memories, visual remembrances and thoughts of the loving acts of mothers: the kiss that can heal anything, the tender look of her eyes that communicates love and acceptance and bedtime assurances or stories that lead to sweet dreams and peaceful sleep.  God is and does all this and much more for us, His children!
In one of her columns, Erma Bombeck tells a story of God in the act of creating mothers.  She says that on the day God created mothers, He had already worked long overtime.  And an angel said to Him, "Lord, you sure are spending a lot of time on this one."
The Lord turned and said, "Have you seen the specs on this model?  She's supposed to be completely washable, but not plastic. She is to have 180 moving parts, all of them replaceable.  She is to have a kiss that will heal everything from a broken leg to a broken heart.  She is to be able to function on black coffee and leftovers.  And, she is supposed to have six pairs of hands."  "Six pairs of hands," said the angel, "That's impossible."
"It's not the six pairs of hands that bother me," said the Lord, "It's the three pairs of eyes. She is supposed to have one pair that sees through closed doors, so that whenever she says, 'What are you kids doing in there?', she already knows what they're doing in there.  She has another pair in the back of her head to see all the things she is not supposed to see, but must see.  And, then she has one pair right in the front that can look at a child that just goofed and communicate love and understanding without saying a word."
"That's too much," said the angel.   "You can't put that much in one model.  Why don't You rest for a while and resume Your creating tomorrow?"  "No, I can't," said the Lord.  "I'm close to creating someone very much like Myself.  I've already come up with a model who can heal herself when she is sick, who can feed a family of six with one pound of hamburger, and who can persuade a nine-year-old to take a shower."
The angel reached over and touched the cheek of God's creation.  "This one has a leak," he said. "I told you that you couldn't put that much in one model."  "That's not a leak," said the Lord, "That's a tear."
"What's a tear for?", asked the angel.  "Well, it's for joy, for sadness, for sorrow, for disappointment, for pride."  "You're a genius," said the angel.
Yes, Moms are a little like God. Yes, it's wonderful to see these qualities and yet be reminded that God is all this AND more to His children – to you!
God is "HERE."
WHEN? When you need Him!
HOW? Lifting, comforting, providing, and bringing the strength that you need!
He is your Heavenly Father, the God who is HERE for you!
Pause and thank Him for how He has been and will be there for you!